Following post COVID-19 restructuring our office is now running hybrid operation, on home working days we may not be able to respond immediately to complex queries if the requisite information is not available electronically.

Harpenden Adult Measuring Table
2022 United Kindom ex-works price: £1590.75 (excl VAT where applicable) Extra for legs: £228.38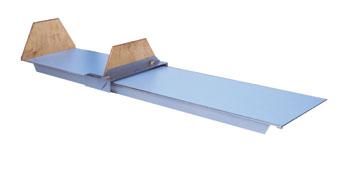 This counter recording instrument is similar in construction to the "Harpenden" Stadiometer. It has the same ease of movement, the same potential for speedy and error-free direct readings, to the nearest millimetre of a subject's length (height), over a range of 300 mm to 2100mm.
Specification
The main frame of the instrument is rigidly made of light alloy. Its sliding member operates via ball-bearing rollers in order to ensure a movement which is free yet without cross-play. All the metal parts of the "Harpenden" Supine Measuring Table have a silver/grey hammer finish.
Weight: 29.5kg
Although we recommend that this instrument be mounted on permanent wall brackets we can, if required, supply it with adjustable legs at an extra charge.
Shipping Specification
Crated size: 220cm x 62cm x 20cm
Crated weight: 41kg



Tuesday 5th December 2023
Tel: 01239 891656 (Int: +44 1239 891656)
Crosswell, Crymych, Pembs., SA41 3UF, UK.
Registered in Wales No. 646316
©Copyright

Fullbore Software Development 2023