Following post COVID-19 restructuring our office is now running hybrid operation, on home working days we may not be able to respond immediately to complex queries if the requisite information is not available electronically.

Harpenden Portable Stadiometer
2022 United Kindom ex-works price: £1575.00 (excl VAT where applicable)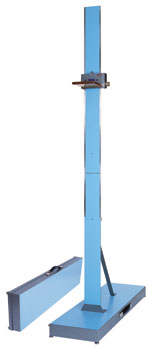 This instrument has been designed to give all the advantages of the "Harpenden" wall-mounted Stadiometer in a portable form. It has the same sensitive counter balanced movement and will give accurate and direct readings, to the nearest millimetre, over a range of 810 mm to 2060 mm. It is extremely easy to erect, its only component parts being two uprights and a base. Erected, it is a robust free-standing unit. Dismantled, the uprights fit inside the base, which doubles as a substantial carrying case.
Weight (Including Base): 20.5 kg
BaseDimensions: 120cm x 36cm x 75cm
Shipping Specification
Crated size: 128cm x 42cm x 14cm
Crated weight: 25kg



Tuesday 5th December 2023
Tel: 01239 891656 (Int: +44 1239 891656)
Crosswell, Crymych, Pembs., SA41 3UF, UK.
Registered in Wales No. 646316
©Copyright

Fullbore Software Development 2023