Due to COVID-19 regulations in Wales our factory is currently under restricted opening to comply with Welsh law on social distancing in the workplace. When the office is unmanned we are checking emails periodically from home but response times are likely to be extended.

Harpenden Sitting Height Table
2022 United Kindom ex-works price: £1757.25 (excl VAT where applicable)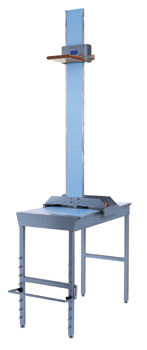 The Harpenden Sitting Height Table has our standard type of ball-bearing mounted, counter-balanced head block, giving accurate and direct readings of crown - rump length from 320 mm to 1090 mm. In addition it has a secondary carriage, fitted with an anti-reverse carriage lock, in order to compensate for upper leg variations: and an adjustable foot-rest in order to compensate for lower leg variations.
Specification
This instrument is constructed mainly of light alloy on rigid tubular steel legs fitted with adjustable feet. All metal parts have a silver/grey hammer finish.
Weight: 24kg
Shipping Specification
Crated size: 132cm x 70cm x 23cm
Crated weight: 35kg



Monday 8th August 2022
Tel: 01239 891656 (Int: +44 1239 891656)
Fax: 01239 393100 (Int: +44 1239 393100)
Crosswell, Crymych, Pembs., SA41 3UF, UK.
Registered in Wales No. 646316
©Copyright

Fullbore Software Development 2022