Following post COVID-19 restructuring our office is now running hybrid operation, on home working days we may not be able to respond immediately to complex queries if the requisite information is not available electronically.

Holtain Tanner/Whitehouse Skinfold Caliper
2022 United Kindom ex-works price: £339.75 (excl VAT where applicable)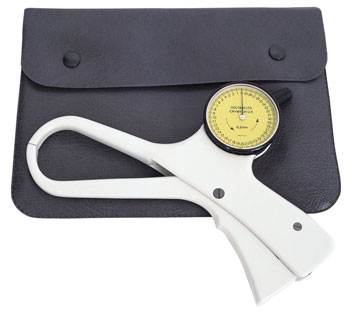 This instrument, which has been specifically designed for the accurate measurement of sub-cutaneous tissue, was developed in close collaboration with the London University Institute of Child Health, and it incorporates the recommended principles for standard usage in such measurements.
Measuring range: 0 mm to 46 mm.
Pressure between Anvils (constant): 10 gms/sq. mm.
Nett weight: 0.4 kg
Dial Graduation: 0.2 mm.
Supplied in a leatherette wallet. Weight in wallet: 0.5kg approx.
The need for revised standards for skinfold thickness in infancy. Arch Dis Child. 1975 February; 50(2): 142-145.
Revised standards for triceps and subscapular skinfolds in British children. Arch Dis Child. 1998 April; 78(4): 354-358
Effect of growth hormone on height, weight, and body composition in Prader-Willi syndrome. Arch Dis Child. 1998 May; 78(5): 474-476.
Rapid growth among term children whose birth weight was appropriate for gestational age has a longer lasting effect on body fat percentage than on body mass index. Am J Clin Nutr December 2006 vol. 84 no. 6 1449-1455
Search Pubmed for Holtain T/W Skinfold Caliper



Tuesday 5th December 2023
Tel: 01239 891656 (Int: +44 1239 891656)
Crosswell, Crymych, Pembs., SA41 3UF, UK.
Registered in Wales No. 646316
©Copyright

Fullbore Software Development 2023