Following post COVID-19 restructuring our office is now running hybrid operation, on home working days we may not be able to respond immediately to complex queries if the requisite information is not available electronically.

Harpenden Anthropometer
2022 United Kingdom ex-works price: £1399.50 (excl VAT where applicable)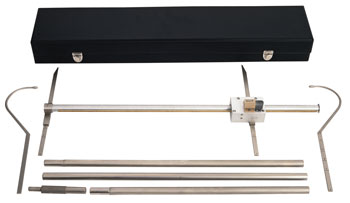 The "Harpenden" Anthropometer is a counter recording instrument which can be effortlessly operated from the tips of its branches. Its user can, therefore, by means of his free finger-tips actually feel his way to his desired measuring points in order to obtain a degree of accuracy not possible with conventional anthropometers.
Specification
This instrument gives a direct and accurate reading, to the nearest millimetre, over a range of 50 mm to 570 mm. It is constructed mainly of light alloy anodised to its natural colour. Its sliding member operates via miniature ball-bearing rollers in order to ensure a movement which is free yet without cross-play.
Each instrument is supplied in a well made carrying case, complete with straight and recurved branches, a spare counter and beam extensions for the measuring of heights of up to two metres (When using these a constant should be added to the counter reading).
Weight in case: 2.8 kg approx.
Search Pubmed for Harpenden Anthropometer


Tuesday 5th December 2023
Tel: 01239 891656 (Int: +44 1239 891656)
Crosswell, Crymych, Pembs., SA41 3UF, UK.
Registered in Wales No. 646316
©Copyright

Fullbore Software Development 2023